If you are getting acquainted with SEO, you must have read about the must-have SEO tools in your armour, that is search console and Google analytics. These two tools help you monitor, analyze, and improve your website's performance on Google search engine. Let us understand the basics of Google search console through this guide for beginners in the SEO domain.
Google Search Console – Introduction
Google search console, earlier referred to as webmaster's tool is a free tool provided by Google to measure a website's traffic and performance. It also helps identify critical technical issues associated with the website and the errors present. You just need to be aware of the SEO basics to use this tool.
Features of Google Search Console
Google search console tool helps to accomplish the following
With the help of a performance report, you learn about the queries which bring a user to your web page or website. This report provides an opportunity to optimize your existing content with the help of new keywords for which the page has gained visibility on Google search.
Visibility of websites on Google Search Engine
Even in the absence of a search console set up for your website, you would have some visibility on the Google search engine. However, this does not ensure that all the necessary pages get served in the Google search. By configuring the search console for your website, you can ensure that all the required pages are submitted to Google for crawling and indexing through the sitemap.
Notifications for problems on a website
Once you have configured the search console for your website, you will receive email notifications regarding any issues which occur on the site. Also, you can keep track of these issues with the help of index coverage reports. Search console also provides an option to notify google once you have fixed these issues.
Validation of web pages appearance to Google bots
It is necessary to ensure that there is no difference between the content which is being served to the users and google bots or crawlers. With the help of the URL inspection tool in the google search console, you can test the URLs. You can also check how the web page appears to crawlers through the web page screenshots that the tool generates. 
Verifying ownership and adding website property to search console
It is necessary to verify that you are the website's owner to add a website property to the Google search console. Depending on the website property type, you can use any of the following seven ways to verify ownership in Google search console.
DNS record

HTML File upload

HTML Tag

Google Analytics

Google Tag Manager

Google Sites

Blogger
Here's a video from the search console team explaining each of these verification methods in detail
Google Search Console Tools
AMP Test Tool is used to check whether or not the created AMP pages are configured correctly to appear in Google search results. Accelerated mobile pages (AMP) are pages that get served on mobile devices with faster load time. You can enter the amp page URL in this tool to check if there is any error present.
Mobile-Friendly Test Tool
The number of searches through mobile devices has increased as compared to those through desktop. Hence, it becomes crucial to ensure that your website is mobile-friendly. This mobile-friendly test tool will highlight any of the mobile usability issues that hamper the user experience on a small screen device. Some of the standard mobile usability errors are as follows
Plugins incompatible 

Viewport not set

Viewport not set to device-width

Content wider than screen

Text too small to read

Clickable elements too close together
The Removal tool in Google search console helps to remove specific content of the website from appearing in Google search engine for a temporary period of about six months. You can use this tool when you want to remove an entire page from getting served in search results. The tool can also be used to remove specific content on a page without removing the page from Google search.
Use the "clear cache" request type when you want to keep on serving the page in google search but want to remove specific content on the page. You will find this tool in the index section of the Google search console.
Note: Before submitting a 'clear cache' request, make sure that you remove the particular content from the page first. This will ensure that when google bots recrawl the page, it gets served with the updated content.
Added structured data markup on your page? If yes, then before making the page live, you can check how would the page be displayed in Google search with the help of rich result tool. You can either enter the code snippet or the test URL to check for any errors. FAQ, how-to, movie, product, video, local business, recipe, event – are some of the schema types that are supported by this tool as of now. Below are a few examples of rich results being displayed in Google search.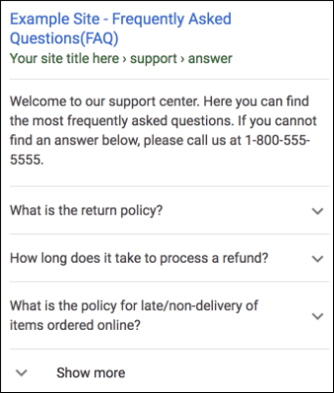 Image: FAQ schema rich result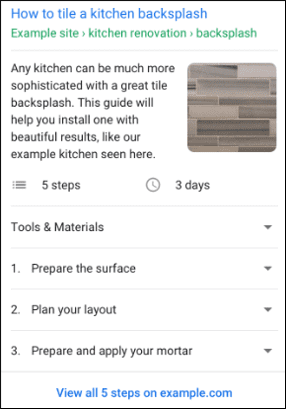 Image: How-to schema rich result
Note: Google does not guarantee that the page will appear precisely as rendered by this tool. This depends on factors such as user's search request, location, search history, and many other factors. 
This tool helps get information related to indexed pages in Google and provides functionality to submit a URL for crawling and indexing. Below is the summary of information that this tool offers regarding a URL or a webpage.
Current index status of the page

Rendered version of the page by Google Bot

AMP errors if any

Structured data markup errors

Indexing issues if any

Canonical URL 
Google Search Console Reports
Performance Report (Google Search – Web, Video and Images)
Performance report provides four most important metrics related to a website performance for sixteen months. These metrics are clicks, impressions, average position, and CTR. You can check these metrics across different dimensions, such as queries, pages, countries, devices, search appearance and dates. This report helps you with the following findings:
Search queries that bring most of the clicks to your website. The impressions obtained for these queries, average position, and average CTR

Top-performing pages and countries

Top-performing device and performance of rich results or structured data markup results
Note: You can select each of the dimensions mentioned above as a filter to obtain more granular level data. Also, you can use the date comparison feature to understand if your website's performance on Google search has improved or not.
For example
Best performing queries in Australia in terms of impressions or clicks

Keywords ranking for the page abc.com/xyz in Canada 

Number of clicks and impressions obtained for the page abc.com/xyz in April vs. March

Average CTR for a query containing "random-query" witnessed in Jan-Feb-Mar compared to Oct-Nov-Dec

Keywords for which a particular page ranks for image search result type

Clicks obtained for brand queries or non-brand queries using the query filter
Performance Report (Google Discover)
Google Discover is a personalized content recommendation engine by Google. It serves content to the users based on their interaction with Google products and services. You could see this content in Google app and below the search bar in Chrome browser. If you have gained a minimum threshold of impressions in Discover, you will be able to see this report. The key metrics of this report are clicks, impressions, and CTR with the dimensions being pages, countries, discover appearance, and dates. You can select any of the dimensions as a filter to get a granular level data.
This report provides FCP and FID metrics related to page speed for both desktop and mobile devices. It helps identify fast, moderate, and slow pages according to the FCP and FID parameters. You can improve user experience of your website by ensuring that most pages have moderate speed.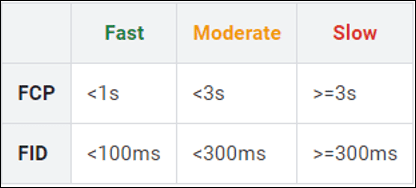 You can view your sitemap submission history in this report, along with any errors that Google encountered while processing the recently submitted sitemap. It also indicates the number of URLs discovered in the submitted sitemap. Clicking on the index coverage icon in the sitemap report will help you to identify any errors, warnings, and excluded URLs from the submitted sitemap.
Links are one of many Google ranking factors. It is necessary to ensure that your website has links from relevant websites and an excellent internal linking as well. This report provides data related to both internal as well as external links on the website. It also provides the top linking external websites along with the top linking text. 
The coverage report consists of all the pages that google bots have crawled or tried to crawl on your website. The following index status groups these pages as  error, valid with warnings, valid and excluded. In an ideal scenario, you should witness an increase in the number of valid pages as your website grows. The following table explains the meaning of each of the index status groups
| | | |
| --- | --- | --- |
| Index Status | Page Indexed on Google | Action to perform |
| Error | No | Learn about the error, fix it and request for validation |
| Valid with warnings | Yes | Learn about the warning, fix it and request for validation |
| Valid | Yes | Ensure no drop in the number of valid pages |
| Excluded | No | Check if any important pages are being excluded |
If you have implemented accelerated mobile pages for a better user experience, then a report would be generated for the same in your search console. This report will highlight any errors or warnings present on the AMP pages. Some of the common AMP issues include:
Content mismatch

AMP page domain mismatch

Canonical points to invalid URL
This report identifies the pages that are not mobile-friendly and also highlights the valid mobile-friendly pages. Ensure that every page of your website is mobile-friendly by fixing the issues that are provided in this report.
This report helps you in identifying any security vulnerability that your website has, which is, or can be, exploited by a hacker. This report also highlights any malware or unwanted software detected on a website, that can harm the user's device. Below are some of the issues that this report helps you identify:
Malware

Hacked type – Code Injection

Hacked type – Content Injection

Hacked type – URL Injection

Harmful downloads

Deceptive pages 
If you use any black hat SEO practices which attempt to manipulate the Google search index, then you will face a manual action from Google. Due to this manual action, your website might take a hit in organic traffic received from Google. Below is the list of manual action that Google can take against your website if your website is found to be non-compliant with Google's webmaster quality guidelines:
User-generated spam

Spammy free host

Unnatural links to your website

Unnatural links from your website

Thin content

Cloaking and sneaky redirects

Pure spam

Cloaked images

Hidden text and keyword stuffing

AMP Content mismatch
Specific Structured Data Markup Reports
Google search console has now started to provide reports for each structured data markup that you implement on your website. For example – FAQ, how-to, products, video, breadcrumbs, reviews, etc. These are dedicated reports under the category of enhancement report in Google search console. These reports will highlight any of the issues in the schema that you implement across your website.
Conclusion 
Google search console helps you identify the opportunities to increase your website's visibility on Google search results. It also ensures that the website does not have any issues which can impact the performance. Hope this guide has helped you get an overview of all tools, reports, and features of Google Search Console.
Popular Searches
Search Engine Optimization in Bangalore  |  Search Engine Optimization in Delhi  |  SEO Company in Mumbai  |  SEO Agency in India  |  SEO Consultants Services  |  Internet Marketing Services  |  Professional SEO Services  |  Ecommerce SEO Services India  |  Website Audit Services  |  SEO Penalty Recovery Services  |  Local SEO Services in India  |  PPC Services in India  |  ASO Services in India  |  Conversion Rate Optimization Company  |  Link Building Services  |  Content Marketing Agency  |  On Page SEO Factors  |  Digital Marketing Overview  |  What is Google Algorithms  |  Google Reverse Image Search