Keyword Research in SEO
Keyword research involves identification of key terms that customers use while searching on the search engines. This helps to 
Acquire information related to the products and services that a business offers 

Buy the products or services that a business offers
Importance of Keyword Research
Thanks to google, many customers do their research online before purchasing a product or a service. Hence this provides a clear opportunity to present a business in front of the target audience. For example, your business is to sell smartphones in Mumbai. Suppose a customer searches for either of the below terms on Google
Compare oneplus and iphone

Buy smartphone online

Buy smartphones in mumbai

Best smartphones 2020

Buy redmi note 6
You are already in the top 3 results of Google with respective pages. This creates a sense of trust and increases the brand awareness of your business. This might as well lead to a sale either online or offline. 
Average Monthly Search Volume 
Average monthly search volume is used to indicate the number of average monthly searches for the key term or keyword on the google search engine. For example, for the above keywords, let us assume the average monthly search volume as below:
| | |
| --- | --- |
| Keywords | Avg. Monthly Search Volume |
| Compare oneplus and iphone | 2500 |
| Buy smartphone online | 12000 |
| Buy smartphones in mumbai | 8000 |
| Best smartphones 2020 | 5000 |
| Buy redmi note 6 | 1800 |
The keyword research list is not limited to a few keywords. The outcome of the above activity is to create landing pages for these keywords and to optimize the same. The average search volume metric helps to understand which keywords to prioritize from SEO optimization as well as landing page creation perspectives.
Note: To rank for keywords with high search volume is comparatively difficult than for low search volume keywords. Also, the website needs to be optimized better as compared to the competitor for a higher google ranking.
Building a Keyword Bucket – Approach
There are multiple ways or approaches of doing keyword research. Here is a step-by-step guide on my approach to keyword research. I recommend you on executing these steps simultaneously. This will help you to build a keyword bucket by the time you finish reading this article.
Step 1 – Creating a list of already ranking keywords: 
It is necessary to have a list of keywords our website ranks for. As per Google, our website is relevant for these search queries. Hence it is already ranking for the same. Below are the instructions and tools that we use to create this list:
If you have configured the search console for your website, then go to the performance report available there. Use search type as web and select the maximum period or date duration.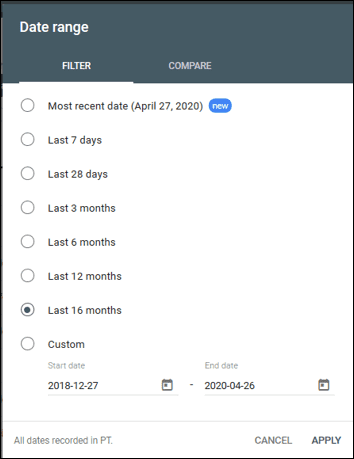 Sort the queries by clicks and download the report. In this report, you will find a maximum of 1000 keywords that your website is already ranking for. Keep these keywords in an excel, and we will be adding more keywords to this list from different tools.
Enter your website URL in the site explorer tab in the Ahrefs tool. Click on the organic keywords report, as highlighted below.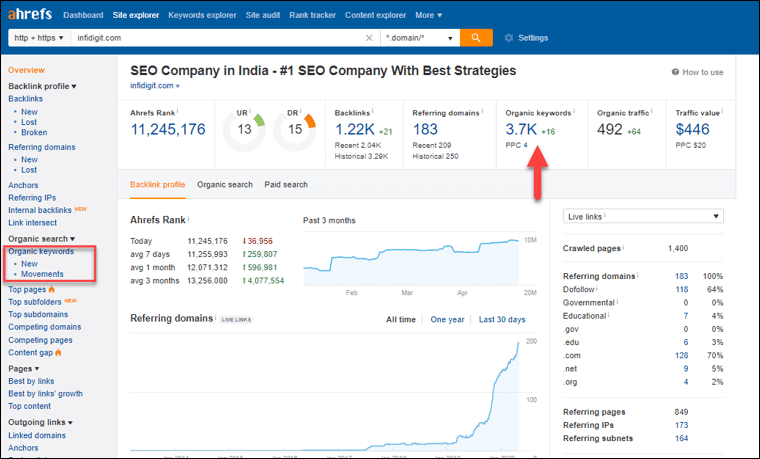 Export this report as well and add them in the existing excel, which consists of the queries from the search console report.
Enter the website in domain analytics and go to the organic research insights. Go to the top organic keywords report and export the same. Add these keywords as well in the existing excel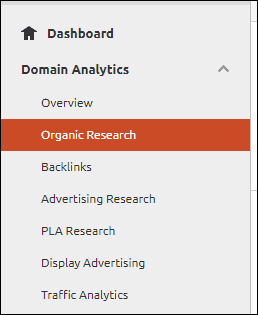 Hope you are working on the excel! Now, this excel will consist of all the keywords that your website is already ranking for. In case you do not have access to Ahrefs or SEMrush, you can go to neilpatel.com. and repeat the above steps (enter your domain, download the organic keywords report and add them to the existing excel). 
Now remove all the duplicate keywords so that we have a clear list of ranking keywords.
Step 2 – Categorizing the list of keywords
For the list which we just created, start segregating these keywords into different categories or topics. For example, a business that sells electronic products will have television (TV), games, mobiles, kitchen appliances, computers and tablets, audio and video, etc. as keyword categories. There can be many keywords that fall into each of these categories. 
Step 3 – Identifying categories without keywords in existing list 
You will find that there are products or services for which there are no keywords or category created. For such categories use the Google keyword planner. Put in the main category keywords to find new keyword ideas relevant to the product, service, and target customers. Update these keywords in the existing list and categorize them.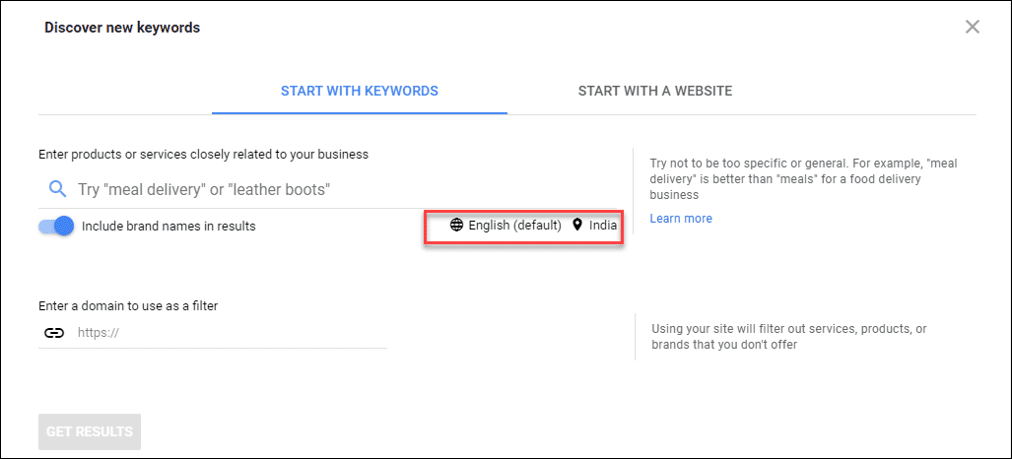 Do not forget to select target location and language while using the google keyword tool.
Step 4 – Identifying SERP Competitors
Here SERP is search engine result page. You might already be aware of the business competitors offering same products and services. However, SERP competitors include business competitors as well as websites that rank for target keywords. You must be wondering that the business competitors would only be the SERP competitors, right? It is true for most cases. However, there are certain websites which build authority around the categories that we serve but we have never thought about them as our competitors.
To identify the SERP competitors just search at least three keywords from each category you created, and observe the search results. There might be few websites which are common, and ranking quite well for each of the category keywords. Make a list of these websites. We will require that in our next step.
Step 5 – Identifying other Categories/Keywords SERP Competitors are Targeting or Ranking for
Here we will use the SEMrush Keyword Gap Analysis tool. Enter all the SERP Competitors one by one along with your website in this tool as below and click on compare. 

Now export all the keywords that are highlighted in the missing section as highlighted below. Repeat this for all the competitors

These are keywords that SERP competitors are targeting and ranking for, but not your website. Create a list of these missing keywords. Add keywords which you would also want to rank for, from this list to the existing list, and categorize the same.
Note: If you do not have access to SEMrush repeat Step 1 for all the competitors except for the export from the search console. 
Conclusion
Hoping that by the end of the fifth step you would have built a keyword bucket list that will further help you in various other on-page SEO optimization. Do let me know in the comments section if you found this helpful, In case you are doing SEO  for your website but do not have resources in place, we at Infidigit would love to help you out with all the SEO  services. We specialize in different digital marketing services such as e-commerce SEO  services, pay per click service, app store optimization, conversion rate optimization services, and much more.
Popular Searches
Best SEO Company  |  Search Engine Optimization in Bangalore  |  Search Engine Optimization in Delhi  |  SEO Company in Mumbai  |  Best SEO Agency  |  SEO Consultants Services  |  Website Audit Services  |  SEO Penalty Recovery Services  |  Local SEO Services in India  |  Link Building Services  |  Content Marketing Agency  |  What is Google Algorithms  |  Reverse Image Search  |  Ranking Factors  |  SEO in Digital Marketing  |  What is Technical SEO  |  Types of Featured Snippets  |  Google Search Console Guide  |  What is YouTube SEO  |  List of HTTP Status Code