Google my business (GMB) is a free tool made available by Google for small business owners. It provides them with a platform to list and optimise information about their business. Listing in GMB helps small businesses to gain visibility when the users are searching in Google Maps. It also helps them to engage and drive in more customers to their respective shop.
Purpose of Google My Business 
Google launched google my business listing in 2014 to help small businesses to build and organize their web presence and to acquire more customers. Local businesses can have a piece of real estate in Google search result for "location-based" and "near me" type of queries. Google my business helps local businesses attract new customers. It also allows them to share vital information about the business such as hours of operation, phone number and their unique value proposition. Features like review and sharing posts of the new product helped firms to engage and build trust with the customers. 
Businesses who can use GMB for a business listing  
1) A business which has a registered physical address such as a local shop, restaurants etc.
2) A proprietary business where a person goes to a physical address to serve the customer.
For example: plumber, electrician or businesses which provide home delivery etc. It is necessary to select a service area for such a business.
3) Individual practitioners such as doctors, lawyers and accountants.
How Google My Business works
With more people using the smartphone as their primary device for internet and shopping, it has become inevitable for small businesses to have a GMB account.
To understand how Google my business works, we have to get a hold on the process of GMB listing.
Setting Up Account 
Every business which appears on GMB must open an account with Google my business, or they can also log in to GMB with any google account. Without an account, Google will never know anything about your business, let alone display your business.
Fill up the information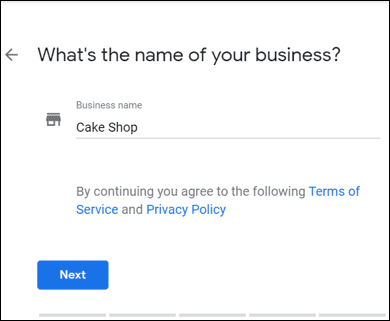 Next step would be filling all the necessary information about the business such as the business name, category, working hour, phone number and address. This information can be useful for the customer to have trust in your business and initiate an action.  
Verifying the business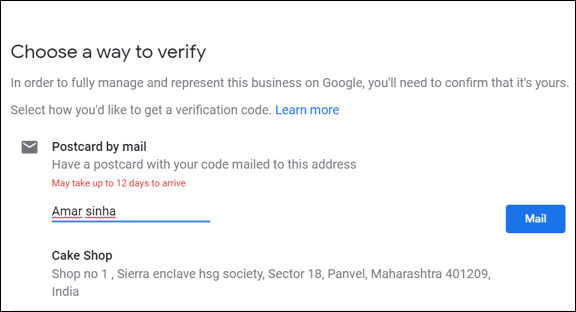 Different Types of Verification of GMB listing:
Postcard

Mail

Phone

Bulk Verification (Only available for business with more than 10 Locations)

Mail and Phone (Verifications are available only for select business)
Process to Optimize Google My Business Listing
Optimizing Google my business account involves several steps. Some important ones are explained below:  
1) Claim Your Listing
GMB accounts can be created by anyone, so be sure your brand name listing is created and owned by you. It grants you access to update, edit or delete required information in the listing. It could potentially be used to post information about new products. Managing and replying to a review can also be done.
2) Fill Complete Information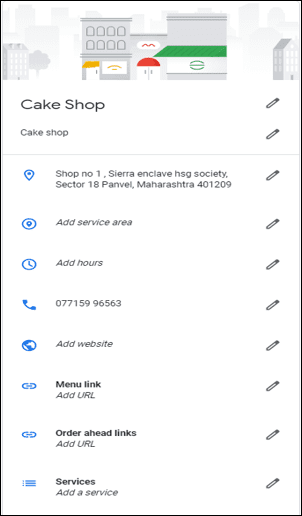 One of the most critical steps to build trust among the customer is by being transparent and furnishing complete information about your business. Losing trust due to inconsistent information is not something you can afford to do. So, try to fill out as many possible fields provided by GMB depending upon your business category. Some fields provided by GMB are:
a) Business name
b) Address
c) Phone number
d) Business hours 
e) Website address
f) Description
h) Business category
h) Photos
i) Questions and answer
A completed profile is an excellent practice to follow; in most cases, such good practices can be rewarded with higher rankings in the local pack. 
3) Optimize Business Description
Optimizing your business description should include points that make your business stand out from the crowd of your competitors. It should consist of keywords, features and unique value propositions to attract the attention of customers. The space for description available is around 700 words, but only about 200 characters is visible in a knowledge panel card.  So the right words should be structured within the available space. Some businesses such as a restaurant can include additional information like menu and booking options. So always cross-check if any such additional information is available for your business category.
4) Choose Business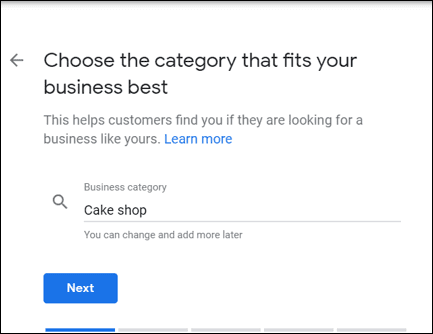 Choosing a particular business helps Google understand the kind of business you might have. It may rank you for non-branded generic searches as well, thereby increasing the reach of the business. Defining your business can open a Pandora of unique attributes which are specific to the category.
For example:  The restaurants can proactively inform whether they accept credit or not. It also includes a call-to-action button, which can book a seat for the customer. 
5) Add Photos Regularly
Regularly add photos which can visually be appealing and relevant to your business. This can influence your customer to take action and transact with your business. GMB has a couple of options for uploading photos:
A profile photo is displayed when your business is shown in the local pack of Google search results. The images should be flexible enough to be shown in a square and rectangular format in desktop and mobile searches.
A cover photo is displayed when Google my business listing is shown in the knowledge panel card for brand queries. This will be the primary photo that your customer will see when they search for you. Make sure the images are professional, clear and relevant to your business. 
6) Post to Google My Business

Google gives one more avenue to engage with your customers through a post in GMB. Post can consist of text, images, videos or combination of all used to describe business more effectively. Using the post feature, a company can make announcements of the new launch, create an event, promotional offers on the product, highlighting features of a product etc. There is a high chance that a GMB post can appear on Search, Maps and Knowledge Panel depending on the relevance. Before posting content, read all the photo and video guidelines given by Google support.
7) Collect Google My Business Review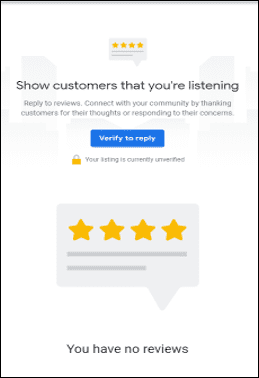 The positive business review adds credibility to your business. Having a consistently positive review will help you rank higher in the local pack result. It is also a great way to know if the customers like the product or services offered by you or not. Businesses should always encourage the customer to write reviews. Sometimes reading the same can be helpful in the decision-making of new customers. When the industry responds to customer feedback, it signals that you listen and care about their reviews. This encourages more customers to write a review. No matter how much a business tries to better their services, there will always be customers who will write a negative review. Don't try to have a war of words with them, instead try to accept it and improve the shortcomings. There is also a provision in GMB to flag a review as fake if a business feels someone is deliberately posting a fake review.
8) Ask and Answer Questions
Google introduces Q&A in GMB listing to remove the apprehension of a customer while transacting with the business. Q&A is used by E-commerce websites to remove all the mental barriers that are holding back a customer to buy a product. In other words, this platform helps clear all the doubts related to the product. 
A business owner in GMB can use Q&A features to ask people to post questions, which the business can answer and solve the doubts of customers. These FAQs are frequently displayed with Google my business listing in Google search, maps etc.
Google with the launch of Google my business feature has made the process much more straightforward. Now any business owner with a smartphone can access their account, edit the information, submit a post, reply to reviews.  
Google my business is striving to bring the physical world online, where it can be searched and accessed even more quickly. Taking these steps to create, optimise and maintain your listing enables  Google to help your business reach the right people.
Popular Searches
SEO Company in India | Search Engine Optimization in Bangalore | Search Engine Optimization in Delhi | Best SEO Company in Mumbai | SEO Agency in India | SEO Consultants | Internet Marketing Services in India | SEO Services | Ecommerce SEO Services | Website Audit Services | SEO Penalty Recovery Services | Local SEO Services in India | PPC Company in India | ASO Services in India | Conversion Rate Optimization Services | Link building India | Content Marketing Services | What is Digital Marketing | Technical SEO Factors | What is Google Algorithms