Many site owners and businesses think of SEO as an activity that is done once the website is live. However, SEO is a field in digital marketing that has evolved over the years. Writing only titles and descriptions and adding some content on the page is no longer enough for rankings. The algorithmic changes that Google has been incorporating in the search engine have given birth to Technical SEO. 
Website design, user experience, the framework used for coding and Page Speed have become the cornerstone for SEO. This change makes it all the more important to think about SEO before building your website.
Also, once the website has been built, it is troublesome to make technical changes. For this reason, we have compiled a list of SEO points to consider before building your website. These points will ensure that your website is optimised for technical SEO and will help you gain rankings faster.
1. Pay Attention to Site Structure 
You need to pay close attention to the website structure when building your website. There is no rocket science involved; Google loves what users love. While designing the structure of your website, keep your users in mind. Google suggests that users who are on your homepage should be able to access every other page within 3-4 clicks on your website.
Consider a flat site structure, which will make it easier for both users and search engines to understand your website.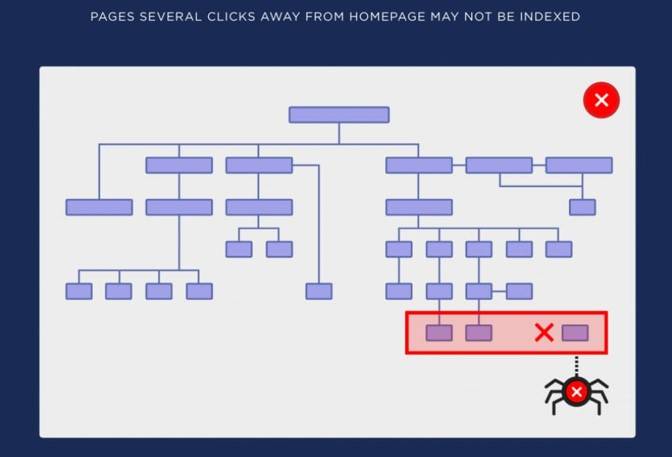 Source: Backlinko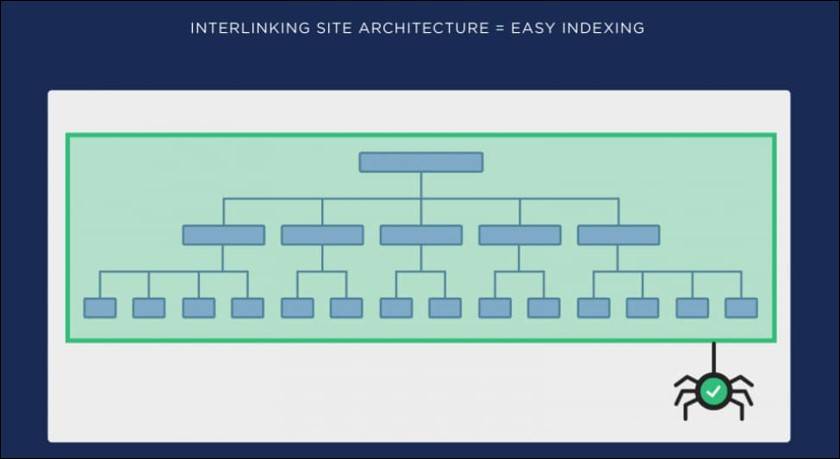 Source: Backlinko
2. Create categories with keywords in mind
Make sure you do proper keyword research before you start structuring your website. Creating pages according to keywords will help you rank for targeted keywords. Break down your website into categories, each targeted towards a particular keyword.
Let us take an example of an e-commerce website.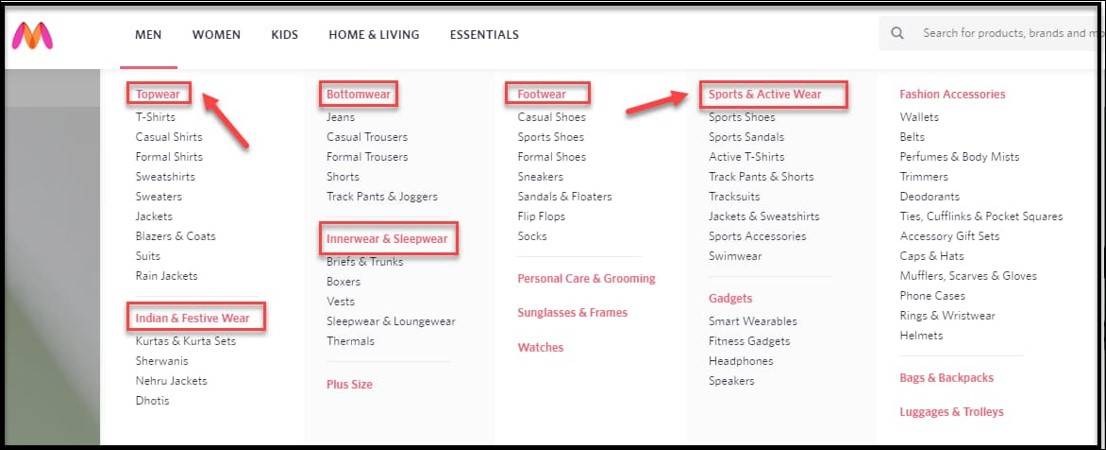 You can break down your website into categories such as "Topwear", "Bottomwear", "Innerwear" and "Footwear".
Later, perform keyword research for that particular category. You can create pages like these: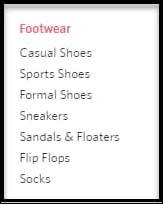 As you can see from the image, different pages have been created according to keywords like "Casual Shoes", "Sports Shoes", "Formal Shoes" and "Sneakers". Doing so will ensure that your pages rank for targeted keywords.
3. Use SEO-friendly URLs
URLs are an essential part of your website. Search engines find it very difficult to understand URLs with odd capitalisation, letters and special symbols. Make sure your URL structure is simple and easy to understand for both – the search engine bot and the users.
Here are some important things to consider for URLs:
Use Static URLs instead of dynamic one's

URLs can be categorised into two types – static and dynamic URLs.
Static URL
A static URL does not change according to queries. That is the reason these URLs do not contain parameters and are clean URLs.
Here is an example of a static URL:
www.abc.com/footwear/formal-shoes
Dynamic URL
When a particular script is used to pull the content from the database and display it on a page, a dynamic URL is formed. These URLs often contain parameters.
Here is an example of a dynamic URL:
www.abc.com/f/&size=26&color=white
Google can crawl both static and dynamic URLs. But using static URLs will make Google spider's job much easier. This will also help your users to understand your page better.
Now that we have covered the different types of URLs, let us have a look at some of the best practices to optimise them. 
Use hyphens (-) to separate words
Use hyphens (-) when separating words in a URL. Do not use any other symbols like ~, &, _ and –. Make sure that the URL is distinguished correctly by hyphens so that the users understand it.
Bad Practices:
www.abc.com/jeansforwomen
www.abc.com/jeans_for_women
Best Practice:
www.abc.com/jeans-for-women
Insert your main keywords into the URL
Often overlooked, this is one best practice that can help your rankings. Make sure that your URL contains the primary keyword that your page is targeted for. This will also help the user to identify the page that he/she is browsing. It also helps the search engine to get a clear idea about the page.
For example, if my page contains red sarees. My URL should be structured as:
www.abc.com/red-saree
Keep your URLs short and concise
Do not go berserk and write extremely long URLs. A study by Backlinko shows that URLs with 50 characters perform better.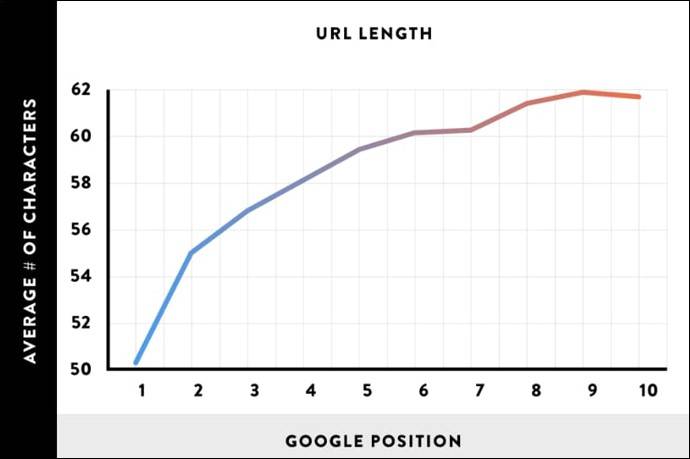 Source: Backlinko
4. Mobile-friendly website
Google has already transitioned to mobile-first indexing. It has officially announced this in its Webmaster Central blog:
"Our algorithms will eventually primarily use the mobile version of a site's content to rank pages from that site, to understand structured data, and to show snippets from those pages in our results."
This makes it extremely important to opt for a mobile-friendly design when building your website. The best way to go is by creating a responsive design. This approach will help ensure that your website is easily viewable on PC, laptop, smartphones and tablets. You can also integrate technologies like Accelerated Mobile Pages (AMP) and Progressive Web Apps (PWA) to provide a seamless experience for mobile users. 
5. Opt for Server-Side Rendering (SSR)
When you build a website, there are two approaches you can use:
Server-Side Rendering

Client-Side Rendering
Server-side rendering is when your server responds to the browser request with an HTML page that is ready to be rendered. Whereas, in Client-Side-Rendering, the server responds to the browser request with an empty document which contains links to the javascript files.
Many SEO professionals and developers have tested out both these approaches. As per observations, SSR renders seem to have clear advantages and are recommended for websites. In CSR, a small mishap can cost your entire website. So at early stages, make sure you opt for Server-Side Rendering (SSR).
6. Choose the Perfect Hosting Service
Web Hosting has a significant effect on your website experience and SEO. For example, if your hosting service has issues, it can significantly slow down your website loading time. This will increase the bounce rate of your website and frustrate users. Page request and server errors will further rub salts into their wounds.
Hence, here are a few things to consider when choosing your hosting service provider:
Ensure the hosting provider has a track record of delivering high uptime. A high uptime means that your website servers will be up and running the whole time, with minimal hiccups.
This is critical because you do not want your servers to go down and miss out on sessions during peak hours.
The location of your hosting service can determine how fast the content and elements are delivered when a request is made. A good practice would be to have your hosting as close as possible to your website visitors. This will ensure good loading times and help speed up the delivery of content to your visitors.
After a server failure, you need to make sure that your site restores seamlessly. Being unable to do so will prove to be a disaster as you can face massive downtimes. Here is why automated backups are critical. Make sure the hosting company offers prompt and automated backups.
Google has confirmed that HTTPS is a ranking factor. You need to have a secure SSL certificate for your website. Make sure that your hosting provider supports the integration of SSL. Together with the hosting kit, some hosting companies often provide SSL for free. 
7. Set up Google Analytics and Search Console Correctly
Before your website goes live, it is very important to set up tracking tools. For measuring your SEO efforts, the two most essential tracking tools are Google Analytics (GA) and Search Console (GSC).
Google Analytics is an important tool by Google which helps you monitor website traffic. You are also presented with critical attributes such as age, location, gender and interests of the users who visit your website.
The GA tool also helps you set up goals to measure conversions.
To set up GA, you will need to follow some steps:
Google Search Console is Google's resource that lets you get valuable information about the health of your website. The metrics include internal and external links, indexed pages, the performance of your keywords and more.
With the recent updates to the tool, now you can also monitor your page speed and uncover technical aspects of your website.
To set up GSC, you will need to follow a few steps:
Conclusion
Creating a website can be both thrilling and disquieting. There are many things to take care of while creating a website, and it is easy to forget about SEO in the thick of things.
However, if a website is not developed with SEO in mind, it will take years for an SEO company to correct all the mess that has been made. This will hamper your rankings and result in low organic sessions.
Hope this guide will help you get your website SEO-ready from the moment it is launched. If you have already kickstarted your SEO journey, use this blog as a guide for making things right. 
We hope this article was helpful and do not forget to subscribe to our blog to stay ahead of the SEO-game.
Popular Searches
SEO Agency in India  |  Best SEO Company in Mumbai  |  Digital Marketing Services in India  |  SEO Services in India  |  Ecommerce SEO Company  |  Website Audit Services  |  Local SEO Services in India  |  PPC Services in India  |  ASO Services in India  |  SEO Guide  |  Types of Digital Marketing  |  Canonicalization  |  Website Navigation  |  Google Business Listing  |  What is Image Optimization  |  Importance of Digital Marketing  |  What is Youtube SEO  |  How to Optimize for Featured Snippets  |  What is Schema Markup  |  Reverse Image Search Google